It seems I'm always blogging about how I haven't posted in a while because it's gotten so crazy around here. I think it's just how it is at my house. We're busy and some days I cope better than others.
Kev went away for a couple of days on business and that always sends me into coping mode but the weird thing is that for some reason I seem to try to do more. We're out later and have more things planned. I'm not sure why or if it's just always busy on Wednesday, Thursday and Friday and I only notice when he's gone.
Friday was especially busy because I took these good time boys....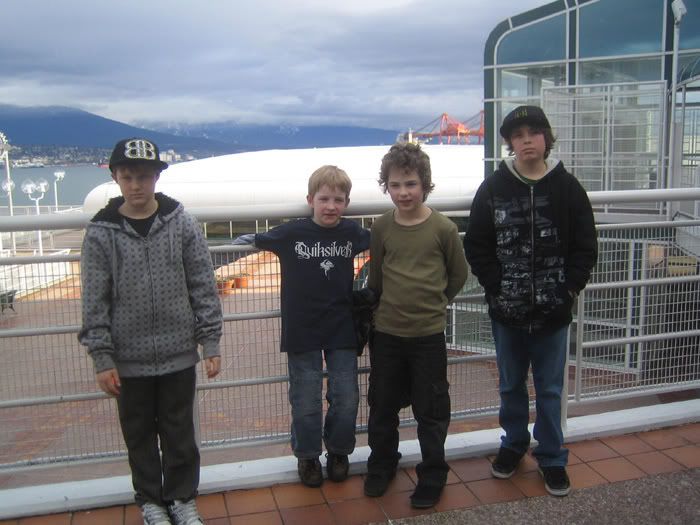 (Levi, Isaac, friend John and cousin Wylan)
....to the IMAX. We saw a cool informative film on Egypt and an amazing one on space. It was all filmed by astronauts on the space station and I've never seen anything like it! We felt like we were there and it was all in 3-D which only added too the effect. Isaac and John loved it. They were especially excited to learn that you didn't have to be an amazing athlete to be and astronaut, you could be a doctor, scientist or engineer too.
I was a bit frustrated with son #1 because he sometimes gets attitude if he's not totally into whatever it is I have planned. Here he is trying to keep the cool while I was teasing him about not smiling!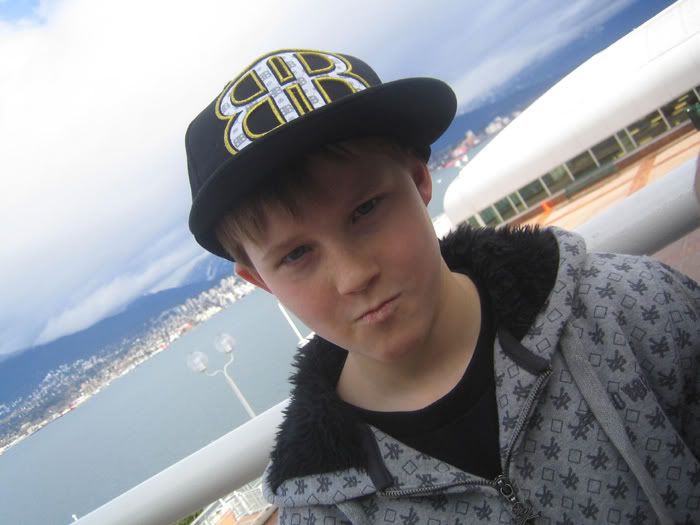 It was a beautiful day in downtown Vancouver. The wind was blowing and the sun peaked out now and then. The IMAX is right down on the water at Canada Place. It's lovely to stand and look out over the water towards Stanley Park. Not surprisingly it was pretty much lost on the boys.
As we headed back out to Langley the good weather didn't stay with us but the boys wanted to hit a skate board park so off we went. They had fun but I think they're a bit better in their own minds than in real life so...they do get frustrated with it.
Anyway, the girl had their dance rehearsal for the big Diva show on Saturday so my sister-in-law and I had to race off to Abbotsford, leaving the dogs and boys at her house.
Maddy danced to "Rockin' Robin" and Emilee was in the "Cotton-eyed Joe" hoe down. They were so excited and cute in full costume and make up.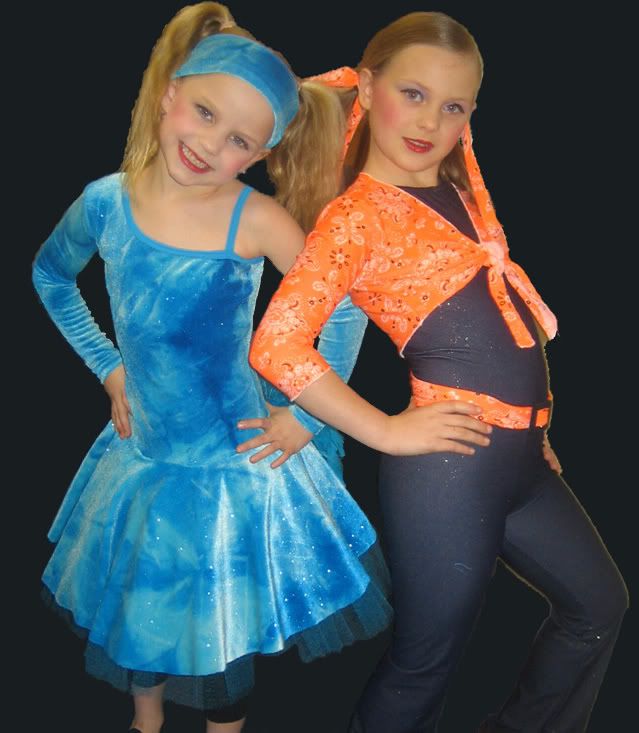 Here's Maddy and a few from her troupe. I don't know the other kid's parents that well so I had to black out their faces. They were all done up and excited, just like Madeline!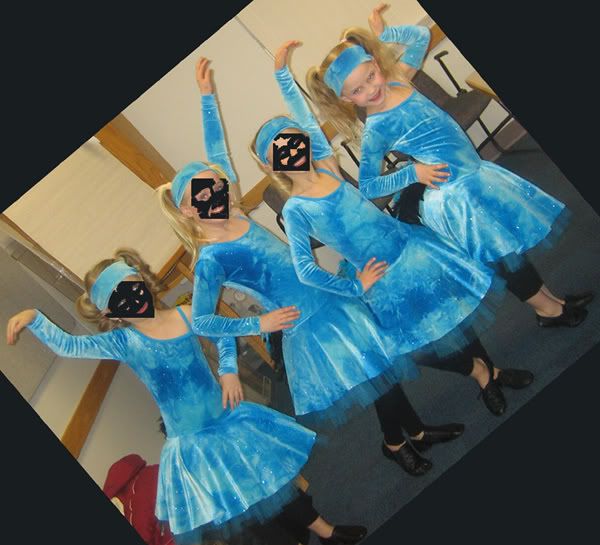 Saturday we weren't allowed to take pictures of the actual show so all I have is my memory of her dance but all the kids were wonderful!
Last year Maddy was awed by the stage and lights and mostly just stood there. This year they all remembered most of the steps and did so well. She was terribly nervous for days before hand. She cried and screamed and insisted that she didn't want to do it. "Everyone will stare at me and I'll be so embarrassed." she yelled at me on Thursday night before the big practice.
The make up and costume seemed to transform her and give her confidence. After the rehearsal on Friday she was excited rather than scared. All she asked for was her own BIG bunch of flowers. I guess last year Uncle Albert only got her a lone rose which was more than she would have gotten if I'd been in change. They have the flowers for sale at the show and I had no idea she would care let alone remember for a year.
Daddy got home early Saturday morning so he was able to join us at the actual performance. She was delighted when he gave her a
big
bunch of flowers after her first Diva show!
Amelia wants to know when June will be? Not being a competitive dancer she has to wait to the year end show and is already counting the days.