I am a homeschooler. I know I mentioned it in my profile but if you're like me, you don't read it first thing. I usually remember after I've read a post or two. When I'm thinking, "now, how many kids does she have? Where did she say she's from?"
Anyway, I am.
I'm not one of those outwardly militant, jumper wearing homeschool mama's but that side lurks somewhere in me. (well maybe not the jumper part but I can get a bit militant on an off day). People usually tell me that my kids and my self don't seem like homeschoolers. I'm not sure this is quite the complement they mean it as. OR it could be a serious put down to other homeschoolers. What does that mean anyway?
When I start hearing things like, "Oh wow. You homeschool. I could never do that." Seriously, it's the craziest thing to say really. Like any of us feel we're equip for anything our adult lives have thrown at us. We usually just do the best for our individual families with what we have.
I usually say," I don't feel like I can do it most days either." I'm thinking all sorts of snarky, sarcastic things at them though cuz, that's just the way I roll. I'm not mad really. It's just fun to think up smart alec responses to stupid comments. Try it. It's so fun! I wish I was so quick in real life but then people would not think I'm so nice after all:)
We meet with a teacher once a semester. I guess the government has to check to make sure we aren't actually using our kids for manual labor on the sly or something. My meeting is tomorrow. I'm a bit stressed about it for a couple of reasons.
Number one: I have a ton to do tomorrow and don't really want to take the time to meet with said teacher. I want to run, help a friend celebrate a birthday, hubby is away and I just don't feel like it :)
Reason number two: For those of you who don't homeschool, this will make NOT sense to you but for those who do....
..... how to show what my kids have been learning. What I've found in my years at this gig is that real learning has very little to do with the stuff kids put down on paper. Why is this a problem you wonder? Well, the only way people, like myself who come from the institution of public education, have to measure learning is by the stuff kids write down on paper. Mostly fill in the blank, story writing type drivel that non of us remember anything about now that we're not in school but for some reason was crazy important to have studied and re-studied for years and years. Well we don't do a whole lot of that as you can imagine. Mostly because it's not fun and has very little long term value. I have to admit it does look cool though AND so fun to show people! My girls seem much more inclined in that direction so maybe I will have some "hard copy" to show people in years to come.
Here's an example of what the boys are up to:
The boys have created a panorama for their Warhammer game (It's okay I'm not sure what warhammer is either. It's about painting little figurines and war, no hammers are involved though so, not sure about the name.)
It's a massive thing created out of Styrofoam and paint. This took countless hours and is totally self directed. Cool eh?!
They started with this piece of styrofoam: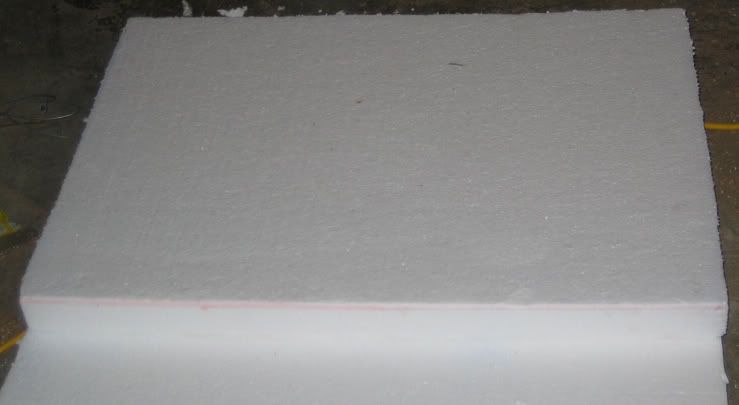 painted and carved and glued:
and viola! They still want to add to this but here it is so far...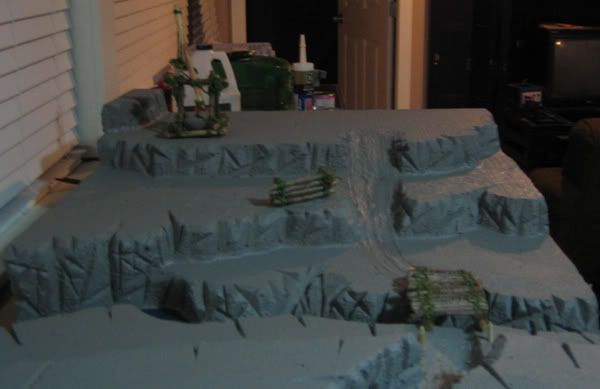 I think it's out of one of the final scenes from The Lord of the Rings. It's the black gate I believe.
Here's a better angle: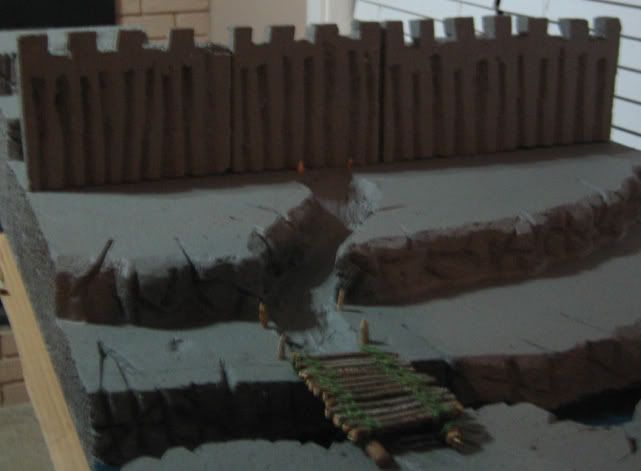 Can you see how this is a tad hard to represent in a paper answer type form?
Lucky for me they both do well at math and we have bucket loads of that.
Do you think I can get girl #1 to read novels by tomorrow? No. Me either. I guess we'll just keep going along at our own merry pace then.
I love the lifestyle we get to lead as homeschoolers. The relaxed way the kids get to approach life and their relationship with one another and the joy they can take in exploring their world.
I don't like having to prove that they are learning and the second guessing that comes with all of that. There's a lot of faith involved in raising children, multiply that by 10 when you homeschool.
I know I need to spend more time in prayer....