I almost forgot to even take photos or even mention this. It's been so common place in my life over the 7 or 8 years we've been home owners that I hardly even notice anymore.
The day after (thank you hubby for waiting!) our big party for all his cousins, my husband took a wall out! I think it helps him relax and although the process is NOT relaxing for me, I love the final results.
I'm sure I mentioned this but we didn't by our dream property for the house. In fact our pet name for the place even before we'd put an offer on it was "the crazy house".
I remember telling everyone, "Hey we bought the crazy house." and they totally knew what I was talking about. We try to play up the yard....which is why we bought the place. After living in Calgary for 8 years, it feels like paradise!
part of the back yard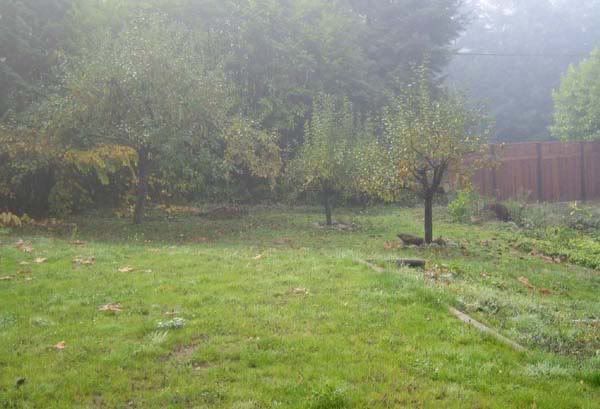 part of the front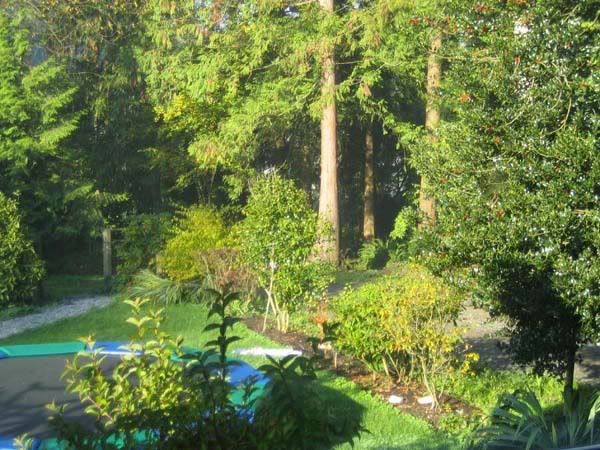 Back to the house....
It was painted all different colors inside, like some insane preschooler got to pick the paint and carpeting. One basement room was purple, one was a pink and a reddish brown carpet covered the play room floor (these rooms all connected) and don't forget the chandelier dangling in the entry or the mural wallpaper in the office. We had a planter built into the living room, crazy disco lights and more than a couple of structural issues. Nothing too serious but I'm sure whoever did the last few renovations had never heard of a level. It wasn't even like he/she eyeballed it...sorta seems like they just leaned it up and nailed it in. Needless to say, it needed some work before we could move in. My hubby did as much as he could in the 6 weeks before we came out but there it sat, mostly unfinished.
We don't plan to keep the house so it seems foolish to spend too much on any major renovations, however I've been finding the kitchen increasingly hard to live with ... so that's pretty much brings up up to the wall removal.
Now you see it...(sorry couldn't find one without kids in it. We never think to actually take real before pictures.)
now you don't...(please don't look into my poor door-less pantry and crazy horrible fridge - yikes)
Way better for having 25 people over! Not the same congestion around the table and kitchen which is where everyone seems to want to be.
Oh and then there was the door to the deck that wouldn't close properly or stay closed or seal.
So he did that today. You can tell from these pictures that there were many projects that came before this one and many that will come after.
all in....
And here are the dogs. See our dog Bree and how happy she is to have cousin Molly over?!
We have a plan to do a complete addition and renovation but these are still a few years out, until then this should help me use my space a bit better. It aint perty but it works ;-)
I'm very thankful to be married to a handy kinda guy. Stay tuned for more from "the crazy house".....