This whole blogging everyday is harder than it looks. (I can't even seem to do it every day so how would I know right?!)
I'm casting my mind around for something...funny...sweet...profound...There are so many images and thoughts in my mind and heart simultaneously. How do I process all this stuff and stay on track? Maybe I can use this excuse for my lack of any visible forward motion on most days:)
I'm noticing more and more that I am completely motivated by connection with other people. I almost crave it. Both in my off and online life.
I read all my comments and visit their blogs. I have to admit to checking daily to see if anyone else has left a note. How sad am I?! It makes me feel like I'm not just whistling in the dark somehow. I'm not sure if all this counts as "real" but thanks to all of you who are reading and to everyone who's leaving a note:) You are making my day!
Check out what we got yesterday! The kids were thrilled and couldn't wait to get out there!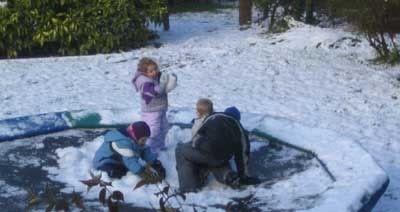 We live on the west coast so when we get snow it doesn't stay long. What a fun way to "jump" on the tramp!